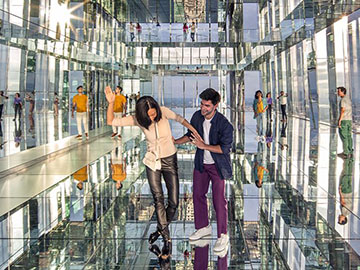 45 E 42nd St
New York, NY 10017
Entrance located on the Main Concourse of Grand Central Terminal


New York's most transformational experience is SUMMIT One Vanderbilt


A new reality awaits.
Your experience at SUMMIT is unique to you: challenging, inspiring, thrilling. We invite you to extend the horizon of your imagination, and reconsider what is possible.


Air by Kenzo Digital
Kenzo Digital is an artist who has taken the sky high canvas of SUMMIT and created one of the largest, most mind-blowing art experiences in the world-called Air.


Levitation
Enjoy a rush stepping out over the city with Levitation: two glass ledges suspended 1,063 feet above Madison Avenue. Be rewarded with heart-racing views of New York City from above.


Ascent
The most daring can go even higher with Ascent, the world's largest exterior glass-floor elevators to the highest panoramic viewing point in Midtown.

Après
For a more restorative journey, enjoy food and cocktails from Après, an exclusive new concept from Danny Meyer's Union Square Events. The outdoor terrace invites relaxation among the skyline.


The impact of SUMMIT goes beyond our walls. Through the SUMMIT Foundation, 1% of ticket sales goes to partner charities. We also believe in making smart, sustainable building choices, and putting an emphasis on the health and safety of our guests.