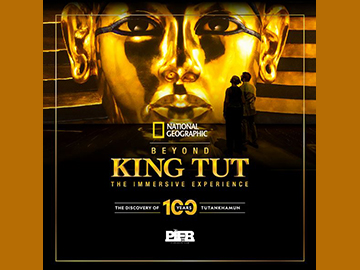 Pier 36
299 South Street
New York, NY 10002

October 28, 2022 - January 1, 2023


Beyond King Tut: The Immersive Experience is a cinematic immersive exhibition that takes guests on a journey to one of the greatest archaeological discoveries of all time.

Journey to modern-day Egypt and see wonders of the ancient world like the Temple at Karnak and the Great Sphinx.
Experience ancient history come to life and gaze at the Egyptian sun as it rises above the Pyramids of Giza, filling the sky with vivid color.

Travel back in time 3,000 years to the 18th dynasty when King Tut ruled and gods like Ra and Anubis were worshiped by all.
Descend into King Tut's tomb, 100 years since its historic discovery and join him in his quest for immortality.

Experience all of this and more in a story 3,000 years in the making.