Music & Fun at City Winery New York City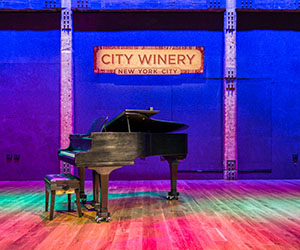 City Winery
25 11TH AVE
New York, NY 10011

From rock legends, folk acts and jazz quartets to incomparable hip-hop artists and buzz-worthy indie rock bands, this innovative venue is serving up some of the best music the city has to offer - along with some of its finest vintages.
New York's City Winery is a truly unique facility, combining a fully functioning winery with intimate concerts, food and wine classes and fine dining.
The brainchild of Michael Dorf, founder of the hugely successful Knitting Factory, City Winery is a vibrant, interactive space where folks can not only listen to great music, but also make their own wine, indulging their passion for quality cuisine, art and friendship.