Friendly Farm Animals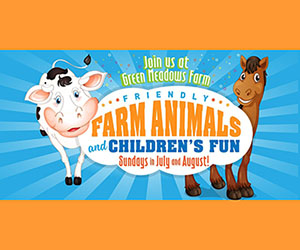 Aviator Sports and Events Center
3159 Flatbush Avenue
Brooklyn, NY 11234

Multiple Dates

Come meet ALL our amazing farm animals - PONIES, ALPACAS, LLAMAS, CALVES, PIGS, SHEEP, GOATS, BUNNIES, and more:

• OUR HAPPY HAYRIDE
• 10 Different Tractors for the kids to sit on
• BIG!! BIG!! Bulldozer to Operate
• GREAT BIG Roller Slide
• MILK "KATIE " the Milk Cow
• Discover the BIG Farm Playground
• Chill out in our COOL-OFF Mist Zone
• Open Areas for Picnics
• And so much more

It 's Summertime at the FARM… and we can 't wait to see you!!