Queensboro Dance Festival 2021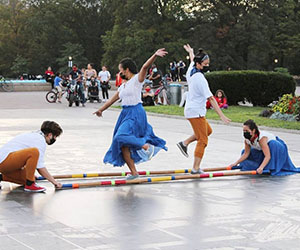 May 15-Oct 3

See Event Website for Dates and Times

From May to October every year, the Queensboro Dance Festival is a tour featuring Queens-based dance companies of diverse cultures & styles.
We tour various indoor & outdoor venues throughout Queens neighborhoods, offering free performances, dance classes, and other unique ways to connect Queens audiences to local dance.

The Queensboro Dance Festival also serves as a Queens career resource for dancers by providing access to free rehearsal space, dance classes, workshops, teaching opportunities, professional development workshops, and artist meetups.