MUSEUM OF ICE CREAM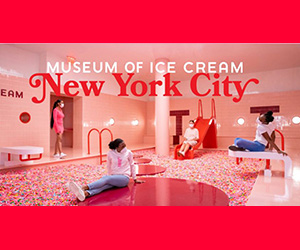 558 Broadway
New York, NY 10012
MUSEUM OF ICE CREAM IS NOT YOUR ORDINARY MUSEUM!

Experience multi-sensory installations with trained guides that bring to life your most delightful dreams.
You may sing, dance, craft, swim, slide, climb, laugh, smile, lick and even hug...and most definitely EAT with treats included in your ticket.
Let your imagination run free in a world where anything is possible.