NYBG GLOW: An Outdoor Color and Light Experience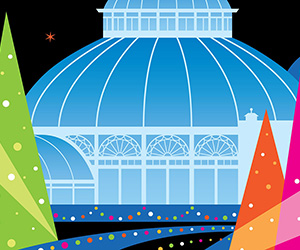 New York Botanical Garden
2900 Southern Blvd
Bronx, NY 10458

Multiple Dates

This holiday season, let it GLOW at The New York Botanical Garden.
Discover the beauty of our landmark landscape and historic buildings after dark, breathtakingly illuminated with a newly expanded 1.5-mile colorful experience.
These lively nights return for their second year at NYBG with more displays to wander through and explore. See NYBG's iconic sights and buildings come to life as dramatic, glittering canvases with the Haupt Conservatory and Mertz Library Building as the centerpieces.
Washes of brilliant color, thousands of dazzling LEDs, illuminated plant stories, and whimsical, picture-perfect installations reflect the surrounding gardens and collections-creating a spectacle not to be missed!
Enjoy a drink, hot cocoa, and a bite to eat at one of our outdoor bars or the Bronx Night Market Holiday Pop-Up.
And take in even more festive evening offerings with artistic ice sculpting, music, and pop-up performances around the Garden.
Start a new holiday tradition with NYBG GLOW!