Candytopia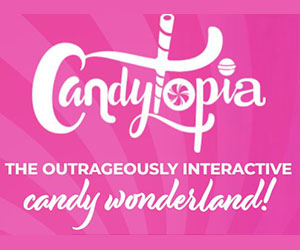 111 W 32rd Street
New York, NY 10001

Multiple Dates


Come one, Come all!

Welcome to Candytopia!
Where colossal candyfloss constructions meld with a tantalizing taffy twistedness. If you've ever dreamed of nibbling your way through Candyland or scoring a Golden Ticket, you've come to the right place.

Explore our sprawling sanctuary of confectionery bliss and be transported to an imaginative wonderland with a one-of-a-kind full sensory experience.

This interactive art installation celebrates the vibrant colors and flavors of your favorite sugarcoated delights across over a dozen environments, from flying unicorn pigs to a marshmallow tsunami.